Previously:
Sleeping Beauty
One Hundred and One Dalmatians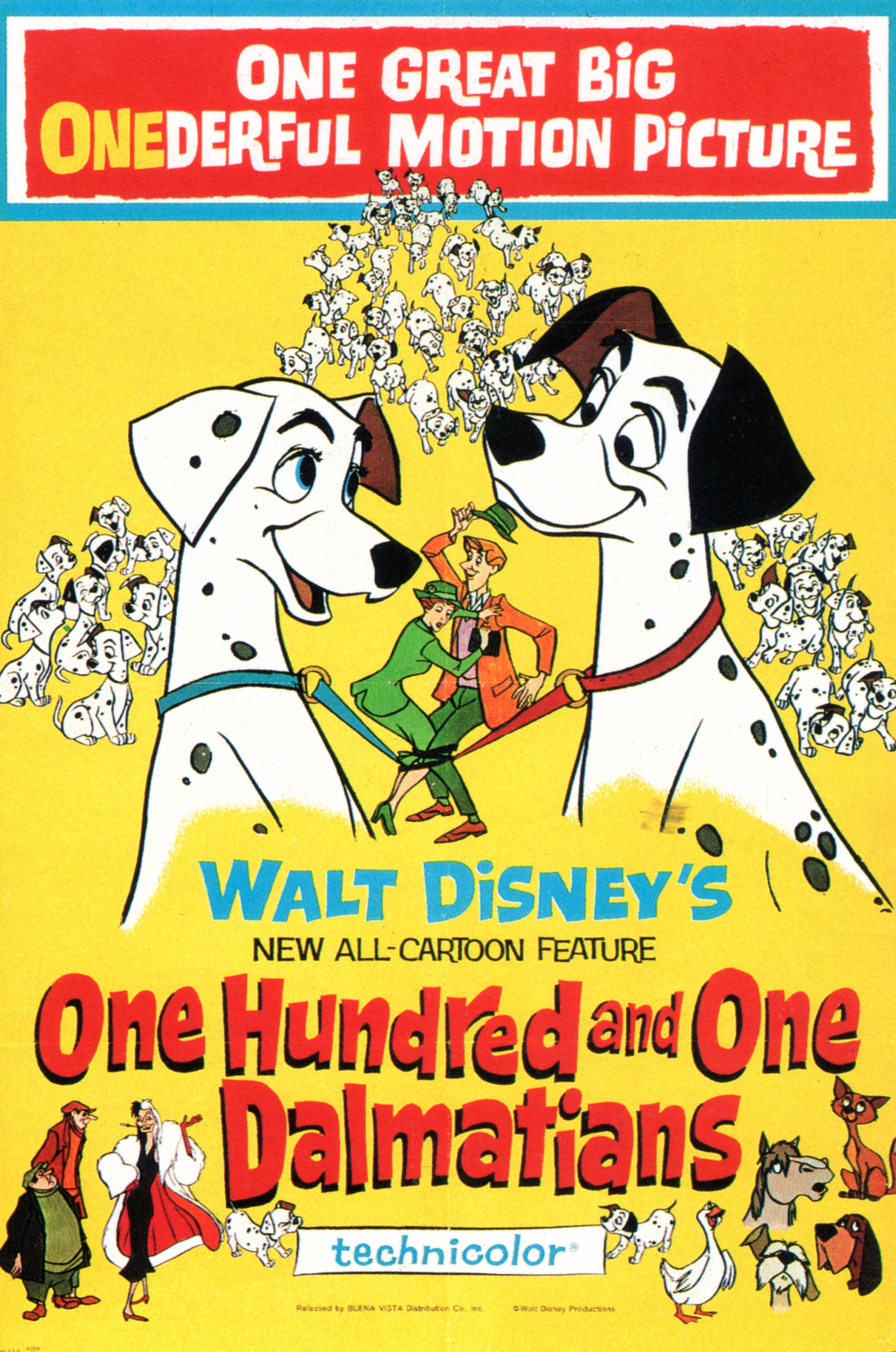 Released: January 25, 1961
Watched: April 23, 2015
This week's film was One Hundred and One Dalmatians, which I was so excited to watch because this was one I really loved when I was a kid. We had a version of it taped onto a VHS and I remember watching it many times.
One Hundred and One Dalmatians is based directly on the novel of the same name by Dodie Smith, which was written in 1956 (only 5 years before the film was released). Walt Disney had read the book, and immediately decided he wanted the rights to make a movie of it. The film had several differences from the book, but Dodie Smith was involved in the whole process and said that the Disney version of the story (which was written entirely by storyman Bill Peet, marking the first time at Disney that a film was written by one man) was an improvement on her book, and that the Disney drawings were better than the original illustrations. Supposedly, she was a Disney fan, and while working on the novel she secretly hoped Walt would take notice.
The production of the film was fairly straight forward and did not take long compared to previous films. What makes One Hundred and One Dalmatians unique is that it was the first film to use xerography, or using Xerox photography to transfer drawings directly onto animation cells (instead of having inkers hand trace every image onto cells). This technique was developed at Disney studios by Ub Iwerks, who was in charge of special processes on most Disney films and developed a lot of other cool effects in Disney films prior to this.
Anyway, the cameras used in xerography were not high tech enough to pick up on only the wanted outlines and instead picked up every sketchy line left by the artist. It's easy to see in many animated films from the 1960's and forward when this is used, because it leaves the animation looking very...sketchy (I don't know how else to describe it). This is something I absolutely love in animation, and makes the 1960's one of my favorite decades for animation styles/trends. I think it brings out the sense of a drawing come to life, and it's great. Funny enough, Walt Disney hated it, like a lot.
The use of xerography helped make the film possible however, because it saved animators from having to animate every single spot on every single dog (fun fact, Pongo has 72 spots, Perdita has 68, and each of the puppies has 32. That's 6,469,952 in all). What's also interesting about the artwork of this film is that it marks the change to a new style for Disney. A new, more angular, stylized look had been developed for
Sleeping Beauty
, which Walt had intended to make Sleeping Beauty stand out. However, animators liked the look, and the angular feel stuck for the next several films.They also developed a very sketchy looking background style, where the colors don't always line up with the lines, to match the sketchiness of the animation. I love this too. Disney did not like this. At this point he was loosing the tight control he had had over his early films (because of being stretched between several projects by this point) and he felt like his company was loosing it's fantasy element.
All of the Lady and the Tramp dogs!
This is also the first Disney film (as far as I can tell) to include Easter eggs, as many of the dogs from
Lady and the Tramp
make another appearance! All recent Disney films sneak in many characters and objects from previous films. It's also the first film to have fun animated opening credits, instead of just painted title cards.
The xerography is obvious in this picture, many of the symmetry lines down the middle of the puppies' head are still clearly visible.
One Hundred and One Dalmatians was extremely well received. The film was one of the cheapest Disney films made at that time, due to the use of xerography. The profit made from the film helped bring Disney back from the losses of
Sleeping Beauty
, and the film was re-released into theaters four more times. It continues to be one of the most popular Disney films, leading to sequels, live action remakes, and a television show.
I loved watching this movie very much, it's so cute I even got my roommate to watch it with me (and for anyone who has ever wondered, my roommate has watched 3 movies with me. Otherwise I have watched all of these alone). It is nostalgic for me, and the story has held up perfectly with time. I absolutely love the animation and art style of this, and the characterization is great.
This is the most important 12 seconds of the entire film (and my favorite of the dogs). I have been quoting this non stop for the past week.