Previously:
Fantasia
Dumbo
Released: October 31, 1941
Watched: January 22, 2015
The first flattering photo of this project~
Dumbo is a film, that I highly under appreciated. This is the first time that I have watched it the whole way through in many, many years (which is weird because I own it).
The story of Dumbo was based on a children's book by Helen Aberson and illustrated by Harold Pearl. The short, straightforward story was written (only a few years prior to the film) for a prototype of a new toy called a "Roll-A-Book" where the "pages" of the book were put together in one long scroll and rolled through a viewer. Mysteriously, there are no remaining prototypes of the Roll-A-Book and the original tale of Dumbo the flying elephant was quickly forgotten for the Disney version. Today, the original is impossible to find.
Dumbo is actually an interesting piece of history in the Disney timeline. The story of the poor baby elephant, doing the best he can with his bad luck, is a fitting metaphor for what the studio was going through at the time. Following the huge financial disappointment of
Pinocchio
and
Fantasia
, Dumbo was a savior for Disney. The film was short and sweet (did you know Dumbo is only 1 hour long? I didn't realize until I sat down to watch it and suddenly it was over), a simple, low budget film. However, at the onset of WWII, an uplifting animal tale was exactly what America needed. The film was an enormous financial success, and practically saved Disney.
Due to the low budget, Disney made the most of what they had. Compared to the style of
Snow White
and
Pinocchio
, Dumbo is very different. Whereas the earlier films had beautiful detailed backgrounds and amazing effects, Dumbo is drawn in a clean, cartoony style with no elaborate effects. The backgrounds are done in simple, yet colorful watercolors. This style is so different, and yet feels just like a children's storybook. It works just perfectly.
The film feels a bit dated by today's standards, in some ways it's good (such as the jazzy, fun music) but other ways not so good. For one circuses (and their conditions for animals) are very different today and there are definitely some racial stereotypes that Disney frequently comes under fire for. The circus itself is set up by faceless black men, who sing about how hard they work for the circus (including the lines, "We slave until we're almost dead. We're happy-hearted roustabouts").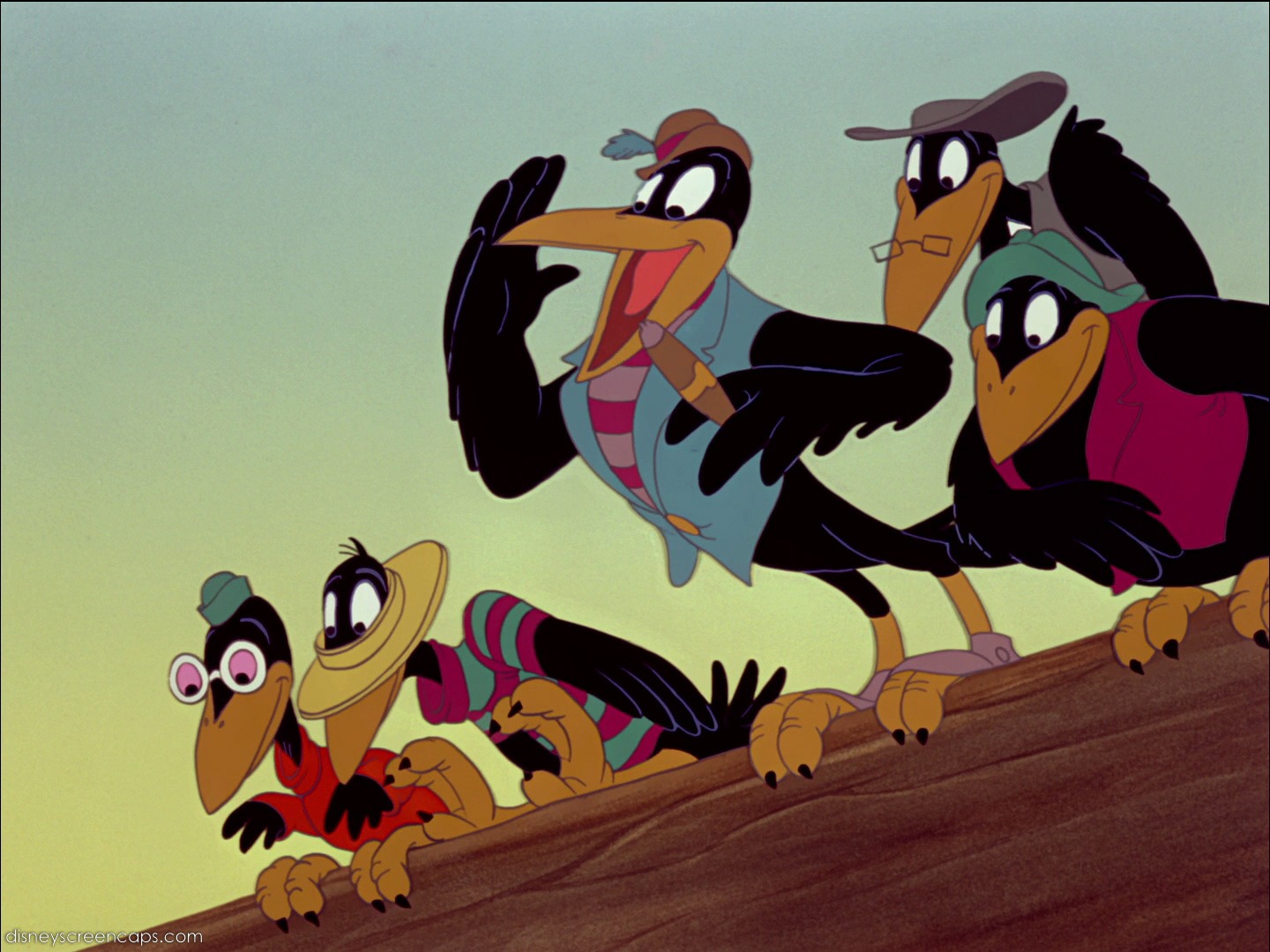 And of course you can't talk about Disney racism without considering the "Jim Crows". No doubt that the crows are complete generic stereotypes of black people in 1941, but when you watch the film...it really doesn't come off as bad as it's gets criticized for. The crows themselves end up practically saving the story by encouraging Dumbo, teaching him to fly, and giving him his "magic feather". The crows are the ones who take pity on Dumbo after hearing his sad story ending with the fact that the circus has literally made him into a clown, putting him on display to be laughed at. Something the crows sympathize with (perhaps because of the way black people were portrayed in media?). The animation for their characters was even choreographed by a well-known pair of black dancers (whose names I can't find and it's killing me, because I saw it in a Dumbo documentary). The crows were really meant to be good-intentioned, jazzy characters. But it's not fair to discuss Dumbo without the controversy.
I also feel like I need to mention the infamous pink elephant, drunk, nightmare scene. This scene is pretty well-known and often parodied. It feels a little out of place, but it's interesting. Like in
Fantasia
, Disney had a lot of interest in experimenting with different styles and animating to music. The scene was also heavily influenced by Surrealism and Dali which was extremely popular in America in the early 1940's. Bizarre and dream-like art was new and unique at the time, and even influenced Dali to work with Walt Disney not many years later!
I loved watching this movie, so much more than I thought I would. The bright, colorful, clean style leads itself just perfectly to the feel of reading through a children's book. It's happy and lighthearted and then also sometimes just punches you right in the heart.
My favorite scene is the stork song. It's cute and fun and sets immediate sympathy for Mrs. Jumbo.